Gallery Weekend // The Kreuzberg Walkabout …In an alleyway off of Markgrafenstraße, Galerie Barbara Thumm presented an oasis of island iconography by Cuban artist Diango Hernández. Tropical fruits were speared on wall lighting fixtures, and sand filled the usual gallery benches. Hernández employs architectural vernacular from Havana in the exhibition furniture, while the placid, blue wave paintings lining the walls exude an easy living philosophy. Yet Hernández's exhibition is not apolitical: his references to the Cuban capital are wrought with comparisons to its US neighbour, and the seemingly serene setting contains allusions to the many faces Cuba presents to the world, as a simultaneous beach vacation hotspot and a politically volatile, revolutionary power…. Berlin Art Link

Gallery Weekend // Top 10 Must-See Recommendations …Cuban-born artist Diango Hernández uses his practice to explore issues connected to cross-cultural concepts of identity. The title of his current exhibition, Marinas, captures the dual experience of the harbour as a place of both exciting departure into the unknown and happy return to one's homeland after travels abroad. Using Cuba as a starting point for his artistic explorations, Hernández creates immersive works that place the viewer in the heart of the Caribbean and yet only hint at the many lives and stories that have unfolded there… Berlin Art Link

Gallery Weekend Berlin A full weekend of art …Also massive is the work of Cuban artist Diango Hernández, who translated a speech by Fidel Castro into a language of waves creating an image of the blue sea, which can be seen at Galerie Barbara Thumm… Metal Magazine

Gallery Weekend 2016 Ein Kunstmarathon durch die ganze Stadt …Der Kubaner Diango Hernández, geboren 1970, übersetzt Wellen in Malerei, blaue, fast Motherwell'sche Schwünge. Seine "Marina", samt Sandbänkchen und Orangenleuchter, meint aber keineswegs nur das karibische Meer. Er übersetzt, wie in Schallplattenrillen, die Schallwellen der Fidel-Castro-Reden aus den Lautsprechern am Platz der Republik in Havanna . Was für ein Kunstbeitrag zum neuen Zeitalter Kubas!… Berliner Zeitung

Gallery Weekend Berlin 2016: Round One …Galerie Barbara Thumm might have been the favorite stop this year. It certainly had a lot to do with the artist Diango Hernandez being present, looking sharp, and explaining eloquently what exactly is his show titled "Marina" all about. See the show first, preferably during the opening while the artist is present, and look up the background story later. As the artist said himself – this show is supposed to turn the exhibition space into a bright positive space where you feel at ease, simply enjoying the beautiful looking tropical seaside ambient. Mission accomplished… Bpigs

Die besten Kunst-Spaziergänge durch Berlin …(6) Barbara Thumm. Die erste zeigt den Kubaner Diango Hernández…. ZEIT ONLINE
---
An island is a fixed unit. Unlike nation states on the continent, it requires no territorial definition, naturally isolated from the rest of the world by the sea. Accordingly, the only real borders are those on the level of the elements, whereas political boundaries are based upon invented systems and a balance between countless cultural mechanisms is needed to sustain them. By contrast, the clear-cut geographical unity of a territory constitutes a concentric situation in which cultural attention focuses less on the peripheral external edges and the associated constant differentiation of the Self from the supposed Other and rather on the coherent unit of its own culture and its internal heterogenity. On the one hand, this detachment from the world creates the idea of the island as a paradisical place of freedom, within whose easily surveyed bounds it may be possible to dream up and potentially realise a utopia. Simultaneously, on the other hand, it inevitably creates a longing for confraternisation with the rest of the world.
In Marina, Diango Hernández takes the reference to his homeland of Cuba as the starting point for his artistic explorations. In doing so, he is obviously not concerned with conveying purely factual information, nor with analysing social structures or political conditions. Rather, the exhibition should be understood as an artistic approximation of the multifaceted issues connected with the cross-cultural concept of identity.
Through the motifs used in the exhibition, the oscillation between concrete references and abstract factors becomes evident, multiplying to form an overall picture that is as open as it is poetic. The title Marina already alludes to the translation of a maritime situation into the exhibition space, while at the same time pointing to the harbour as the place both of return to one's home and of yearning departure. The frieze, which is made up of many elongated rectangular images of waves, is modelled upon an ocean horizon, creating a physical experience for the audience in the exhibition space that reflects the abovementioned isolation of the Caribbean island state. Furthermore, the waves are a motif that appears again and again in Diango Hernández's work. He takes abstract words from Fidel Castro's speeches: Applause, Revolution, Cuba reverberate through the room, immediately dissolving in the pictorial abstraction's purity and lack of bias. By contrast, the fruit attached to the chandelier becomes a synonym for the linkage to the Western World, considering that it is free to circulate as a commodity in the free-market economy, while advertising the sweetness of life in the tropics. Both the window and the benches are directly linked to the architecture in Cuba's capital of Havana. The window – which has always symbolised gazing out of a closed unit into the distance – is modelled on the shape of the windows in the artist's apartment. The colours, too, are the same there – but not only there: they are standard colours that can be found in every corner of the island. The benches are based upon seats in Havana's Capitolio. They refer to the ambivalent relationship between Cuba and the United States of America conveyed by this state building, which is modelled upon the Capitol in Washington. In contrast to the original heavy wooden furniture, Hernández's alternative design looks as if the benches were really destined for the beach. This is suggested not only by the pastel colours, applied in quick brush strokes, but especially by the embedded fine white sand, upon which viewers are able to sit down in order to imagine themselves upon a Caribbean island.
At present, Diango Hernández's work can be seen in the solo exhibition Beach. A Longing in K21 – Kunstsammlung NRW in Düsseldorf. On 21 May, the solo exhibition Theoretical Beach will open at the Museum Morsbroich in Leverkusen. Besides this, his works can also be seen in several institutional group exhibitions, including Wir nennen es Ludwig in the Museum Ludwig in Cologne (opening on 26 August).
Anna Czerlitzki
---
Eine Insel ist eine feststehende Einheit. Anders als die Nationalstaaten des Festlands bedarf sie keiner territorialen Definition. Das Meer isoliert das Stück Land auf natürliche Weise vom Rest der Welt. Eine reale Grenzsituation gibt es demnach einzig und allein auf der Ebene der Elemente, wohingegen die politischen Grenzen auf erdachten Systemen fußen. Für ihren Erhalt ist ein Gleichgewicht zwischen unzähligen Kulturmechanismen notwendig. Im Gegensatz dazu stellt die eindeutige geografische Gesamtheit eines Territoriums eine konzentrische Situation her, in der die kulturelle Aufmerksamkeit nicht den peripheren Außenrändern und der damit in Verbindung stehenden permanenten Differenzierung des Selbst von dem vermeintlich Anderen gilt, als sie vielmehr die geschlossene Einheit der eigenen Kultur mitsamt ihrer inneren Heterogenität betrifft. In einer Gleichzeitigkeit produziert die Loslösung von der Welt einerseits die Vorstellung von der Insel als paradiesischem Ort der Freiheit, in deren Überschaubarkeit eine Utopie potenziell in die Nähe ihrer Verwirklichung geträumt werden kann. Andererseits kreiert sie unweigerlich die Sehnsucht nach der Verbrüderung mit der übrigen Welt.
Diango Hernández nimmt in Marina den Bezug zu seiner Heimat Kuba als Ausgangspunkt seiner künstlerischen Auseinandersetzung. Dabei geht es ihm offensichtlich weder um eine reine Vermittlung der faktischen Gegebenheiten, noch um eine Analyse der gesellschaftlichen Strukturen oder politischen Zustände. Die Ausstellung ist vielmehr als eine künstlerische Annäherung an die vielschichtigen Fragestellungen zu begreifen, die mit dem kulturübergreifenden Begriff der Identität zusammenhängen.
Durch die in der Ausstellung verwendeten Motive wird das Oszillieren zwischen konkreten Bezügen sowie abstrakten Momenten evident, die sich zu einem ebenso offenen wie poetischen Gesamtbild multiplizieren. Bereits der Titel Marina deutet auf die Überführung einer maritimen Situation in den Ausstellungsraum hin und verweist zugleich auf den Hafen als Ort der heimatlichen Ankunft und des sehnsuchtsvollen Aufbruchs. Das aus vielen langgestreckten querrechteckigen Wellenbildern bestehende Fries empfindet einen Meereshorizont nach, der die körperliche Erfahrung des Betrachters im Ausstellungsraum auf die beschriebene Isoliertheit des karibischen Inselstaats zurückwirft. Darüber hinaus sind die Wellen ein wiederkehrendes Motiv in der Arbeit Diango Hernández. Es sind abstrahierte Worte, die er den Reden Fidel Castros entnimmt. Applaus, Revolution, Cuba hallen durch den Raum und lösen sich im selben Augenblick in der reinen Unbefangenheit der malerischen Abstraktion auf. Die auf dem Kronleuchter befindlichen Früchte hingegen sind Synonyme für die Verbindung mit der westlichen Welt, wenn man bedenkt, dass sie die Freiheit besitzen als Ware im Marktsystem zu zirkulieren, während sie nebenher die Süße des tropischen Lebens bewerben. Sowohl das Fenster als auch die Bänke haben einen direkten architektonischen Bezug zu der Hauptstadt Havannas. Das Fenster – seit jeher Symbol des Blicks aus der Geschlossenheit in die Ferne – ist in seiner Form den Fenstern der Wohnung des Künstlers nachempfunden. Auch die Farben kommen dort so vor. Aber nicht nur dort: Es sind Standartfarben, die in allen Ecken und Winkeln der Insel zu finden sind. Die Bänke hingegen sind an die Sitzgelegenheiten im hauptstädtischen Kapitol angelehnt. Sie verweisen auf die ambivalente Beziehung zu den Vereinigten Staaten von Amerika, die dieser repräsentative Bau Havannas, der dem Kapitol in Washington nachempfunden ist, ausstrahlt. Im Unterschied zu dem originalen, schweren hölzernen Mobiliar wirkt der alternative Entwurf Hernández', als wäre der eigentliche Bestimmungsort der Bänke der Strand. Nicht nur die in schnellen Pinselhieben aufgetragenen Pastelltöne deutet darauf hin, sondern allen voran der eingelassene feine weiße Sand, auf dem sich der Betrachter niederlassen kann, um sich von hier aus gedanklich auf eine karibische Insel zu versetzen.
Diango Hernández' Werke sind momentan in der Einzelpräsentation Beach. A Longing im K21 – Kunstsammlung NRW in Düsseldorf zu sehen. Am 21. Mai eröffnet die Soloausstellung Theoretical Beach im Museum Morsbroich in Leverkusen. Darüber hinaus sind seine Arbeiten dieses Jahr in mehreren institutionellen Gruppenausstellungen zu sehen, darunter Wir nennen es Ludwig im Museum Ludwig in Köln (eröffnet am 26. August).
Anna Czerlitzki
30 April – 04 June 2016
Galerie Barbara Thumm
Markgrafenstrasse 68
D-10969 Berlin
Phone + 49/30/283 903 47
Fax + 49/30/283 903 48
Email: info@bthumm.de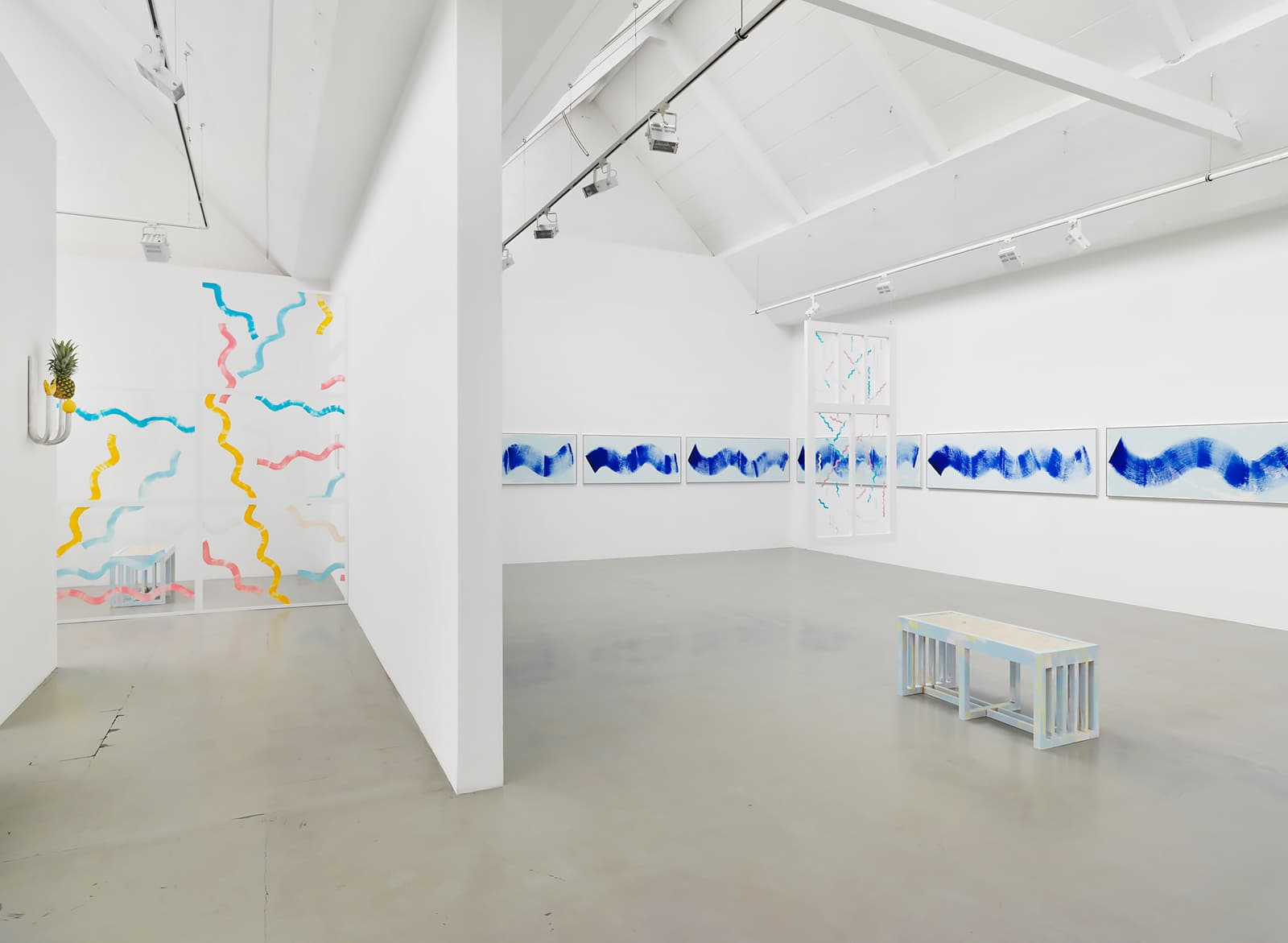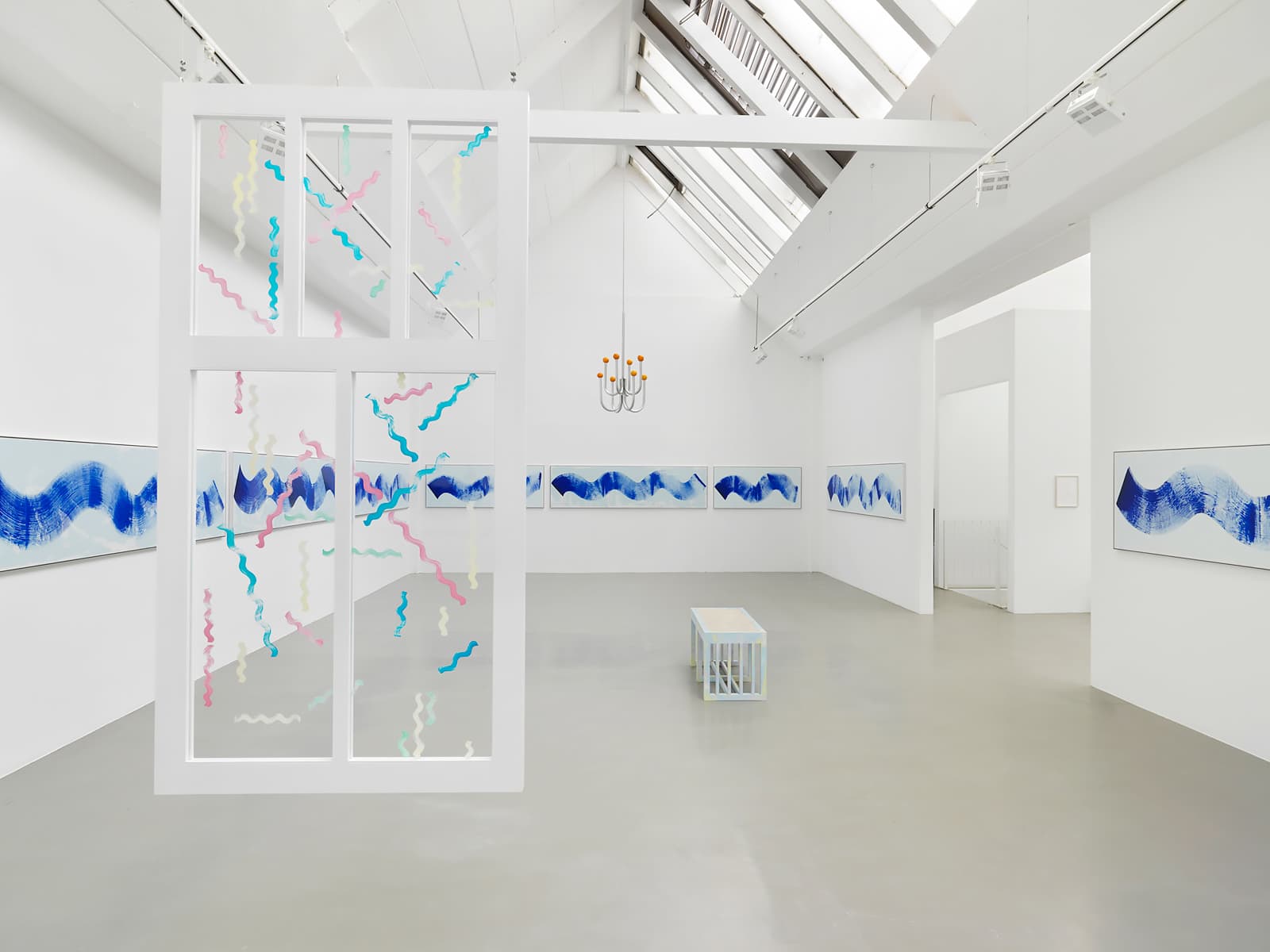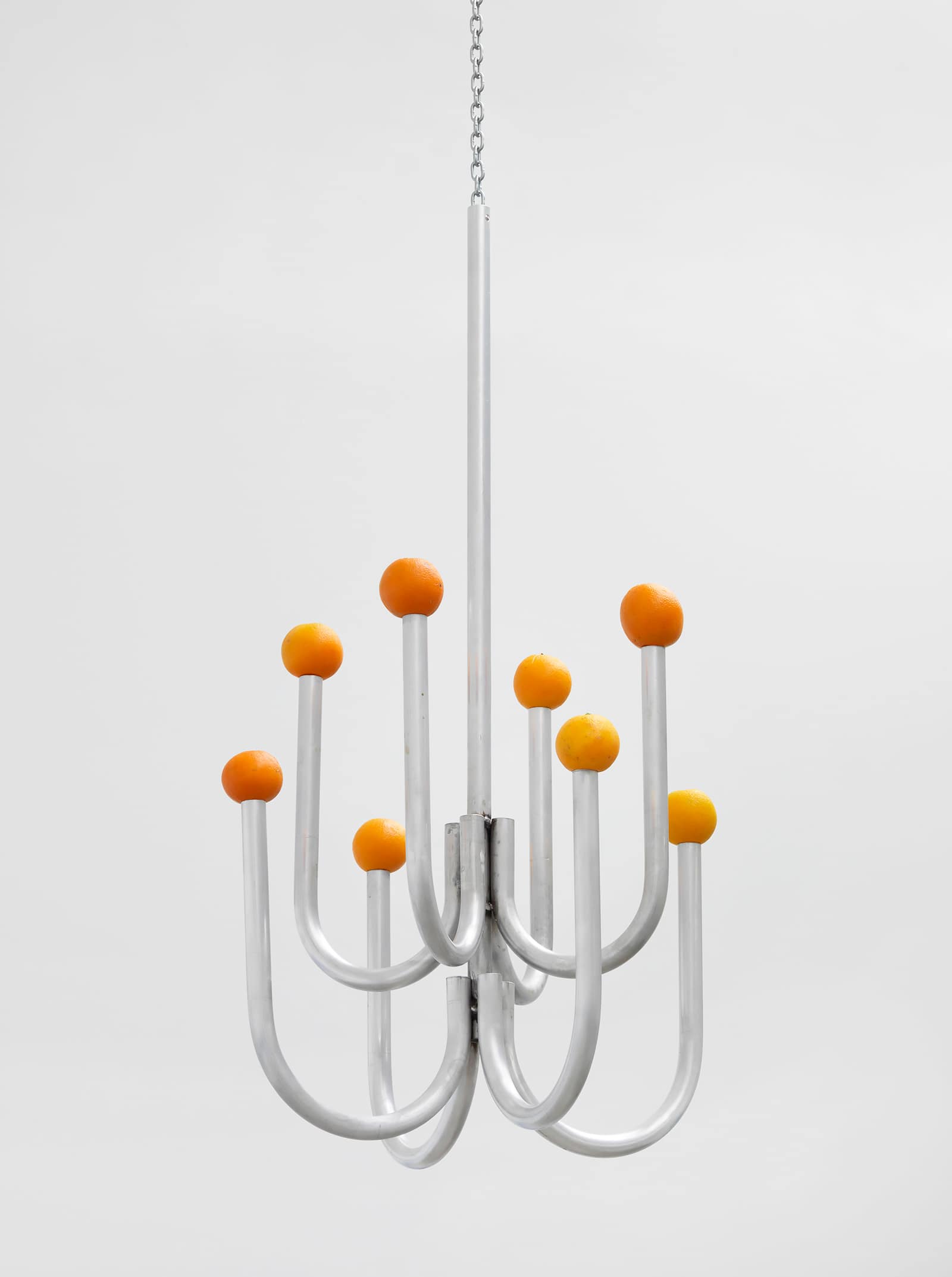 photos: Jens Ziehe